Thursday, July 10, 2014 / by Cristina Edelstein
Top 10 Patriotic Dessert Recipes
Looking for a new, patriotic dessert to share with family and friends? Try one of these: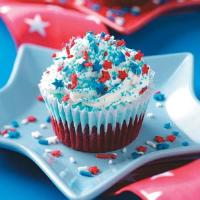 1) Patriotic Ice Cream Cupcakes
Total Time: prep: 30 min. freezing Bake: 15 min. cooling
These red, white & blue cupcakes are perfect for your next Fourth of July get-together. Red velvet cupcakes layered with blue ice cream and frozen whipped cream topping. A festive way to turn cake and ice cream into a hand-held dessert!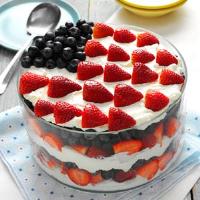 2) Red, White & Blue Dessert
Total Time: 20 min
Serving the rich, fresh-tasting Red, White and Blue Dessert decorated like the flag is a great salute to the nation's independence!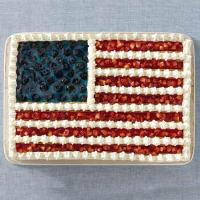 3) Flag Cake
Total Time: prep: 1-1/2 hours chilling Bake: 35 min. cooling
This patriotic-themed Flag Cake makes a stunningly delicious centerpiece on any summer celebration table.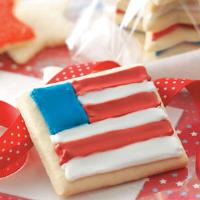 4) Sugar Star & Flag Cookies
Total Time: prep: 1-1/4 hours chilling Bake: 10 min./batch cooling
A favorite cookie to send to troops overseas, these soft Sugar Star & Flag Cookies ship well and taste great!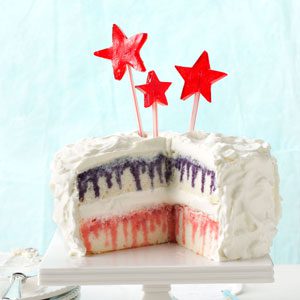 5) Red, White & Blueberry Poke Cake
Total Time: prep: 40 min. cooling Bake: 25 min. chilling
A sweet treat in the summer, this patriotic poke cake with dazzling red and blue stripes is a fun one to make with the kids.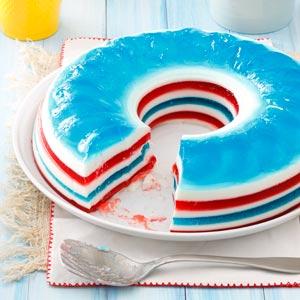 6) Patriotic Gelatin Salad
Total Time: prep: 20 min. chilling
Almost as spectacular as the fireworks, this lovely salad makes quite a "bang" at a July Fourth meal. It's exciting to serve, and your guests will love the cool fruity and creamy layers.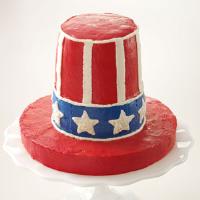 7) Uncle Sam's Crispy Treat Cake
Total Time: prep: 1-1/4 hours
Kids and adults will enjoy decorating this patriotic treat as well as eating it!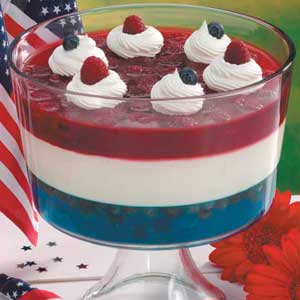 8) Red, White 'n' Blue Salad
Total Time: prep: 30 min. chilling
The striking "flag" salad draws plenty of attention at an Independence Day party. The shimmering stripes are formed with distinctive gelatin layers. It makes you want to salute before spooning some up!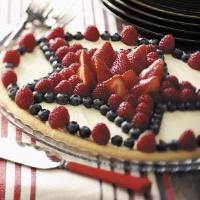 9) Star-Spangled Fruit Tart
Total Time: prep: 25 min. Bake: 10 min. cooling
This crispy, creamy dessert is perfect for a Fourth of July celebration! With patriotic colors and a light, fluffy filling, this summery delight will be the hit of your get-together.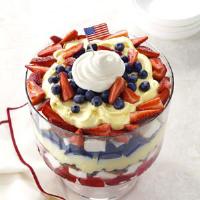 10) Patriotic Trifle
Total Time: prep: 30 min. chilling
Everyone will ooh and aah when you bring this pretty, patriotic trifle out. But don't forget to include one American flag for the topper.
Source: TasteofHome.com